Oregon alpaca farm
As both a weaver and knitter, fiber and textiles have been a part of my life for over 30 years. The search for quality yarns drew me to an interest in raising fiber-producing animals. I had thought about raising sheep, but at my first alpaca show I knew I had found the right animal for me.
I understand and appreciate the unique qualities of alpaca fiber - such as its softness, luster and comfort. In addition to alpacas' fabulous fiber, their great dispositions and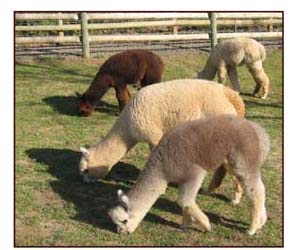 wonderful personalities completely won me over. Skyline Alpacas now combines my first passion, the fiber arts, with my new passion, raising alpacas.
Raising alpacas is a lifelong learning adventure. I love answering questions and talking about alpacas and I have firsthand experience in, researching, purchasing and building a herd. Please feel free to contact me if you have any questions regarding Skyline Alpacas.